Year 2009 was a great experience for me as i started my Professional Career in February 2009 and Completed Post Graduation in June 2009, I had been working for various organizations till 2008 as a freelancer/consultant, but in the beginning of 2009 i started my Professional Life by joining Maybole Technologies Pvt Ltd as a System Engineer.
I am tring to list down a few of my memories of each month of Year 2009
January 2009
After completing the Semester III of my Masters i was in search of Internship/Job which would would lead to completion of my MSc (CA) Programme, Markets were on a all time low and this search was taking just too long but fortunately on 27th January i appeared for Maybole Technologies and was recruited. In January i was also a part of the Organizing Team on 2nd Drupal Camp India we successfully organized the Event on The 31st January, the event received appreciations from all and was attended by more then 250 people which we never expected.
In January 2009 i also migrated my major Websites to a new Hosting Service
February 2009
It was Feb 2nd when i joined Maybole Technologies, I was introduced to the staff and was assigned a temp desk and books to read and my first day ended reading several Redhat Books. I started working only on the Third Day, and witnessed many things/operations which i was just unaware about in the past.
GNUnify 2009 was scheduled in Mid February, i used to come to SICSR after my office hours and at sometimes in lunch hours as i was given the responsibility for maintaining GNUnify 2009 website, but unfortunately i was not able to be present for GNUnify on both the days. On Second Day of GNUnify i took a Workshop on Drupal which was a great experience for me as it was the first time i took a workshop, in GNUnify 2008 i had only presented a topic.
My Drupal CVS was approved.
March 2009
First Salary, i was excited, the month went in writing a few scripts and configuring Application Servers, I would remember March 2009 as i released Gamabhana on Drupal.org Gamabhana was developed by Mr Omkar Joshi but was not available on drupal.org for various reasons and i contacted Mr Joshi and were able to release the module with permission. Also went for the Annual Maybole Trip
April 2009
Third month on the job worked on various configuration to select the most appropriate version of it, tries various new and old systems. Drupal Hindi Translations for Drupal were in full swing with a few contributors coming on board, planned to release a hi package. Submitted my final report for MSc (CA) appeared in the viva.
May 2009
Huuh Busy in office not much additional activities seen server crashes......... Released hi Package on Drupal.org
June & July 2009
Freelancing yet again reltok......... project came in tries various modules and customized a few on worked on theming for the first time. reltoked for 2 months to gave it a shape excited over the project.
August 2009
This was a important month, recieved an offer from Symbiosis to join in as Web Administrator, resigned from Maybole and was loaded wil some additional work of documenting my work and train my  colleague regarding my responsibilities.... Applied for creating a hi project on localize.drupal.org on 24th August and Gabor created it for for on 26th Aug exported all translation collected using drupall10n.com to the new Drupal Translation Server.
August 31st my last day at Maybole,was excited to join Symbiosis yet again this time not as a student :) met all the fellow maybole staff complied a few memories from Maybole. Would never forget Mr Mahendra for all support and favor he provided me at Maybole
September 2009
I am back in Symbiosis, With meetings lined-up from Day 1, met the staff understanding how this organization works took me an entire month and even long i am still unaware of many things here. Took Drupal Association Membership, Planning and working for Drupal Sprint India Adison Berry is expected in the event, this has to be a big event for Indian Drupal Community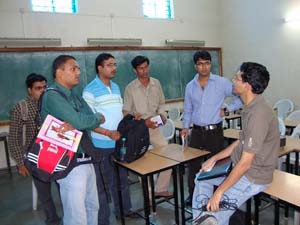 October 2009
Working on a few new activities for Symbiosis its fun working here, i am bit relaxed here as compared to the last organization and people are adaptable. Work for Drupal Sprint India is on fast pace, the event is in end of the month, i am looking over the website and managing other activities and promoting the event as much as i can. Drupal Sprint India a 2 day non stop went on quite well Few Documentation were comitted in Drupal.org. With Karunakar helping in Hindi Localization we added upto 1000 new translations in 2 days. the event was exciting and a learning experience.
October was a big month for me as Kashipur.in completed its 3 years.
November 2009
Symbiosis is now a bit active on Social Media, Convocation is next month Papa & Mummy coming for the Event, they would be in Pune for the first time.
December 2009
Convocation on the First Weekend Papa & Mummy coming on 5th December, i am eagerly waiting for them as have not gone to home since 6 months, And finally its day of Convocation left early with parents to SIU met friends all are excited for the Convocation Dr Shashi Tharoor is the chief guest for the Event, This Convocation is also important in the history of SIU as it was its first Convocation in its Lavala Campus. The Convocation Ceremony Started and after a series of motivating speeches the ceremony ended around 3 PM, Now I am officially a Post Graduate.
Took a 2 day leave from office and will be with parents, went to Bheema Shankar and then for a movie with Parents, it was fun to be with them after a long time. And i am back to work.
Released a new hi package once again with the new translation received in Drupal Sprint India2009, Montu Bhai (Mayank Nagar) is in Pune for a 2 days so met him over a lunch. In December went for a number of movies, i dont think that i would have seen these many movies in the last 11 months.
The Year was fun filled hoping a great year ahead.
Wising You all a Very Happy New Year.