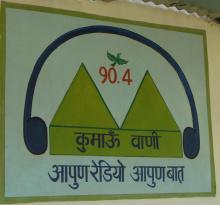 My latest assignment at Uttarakhand Open University is to setup a Community Radio Station (CRS) in Haldwani, we have already decided over the name and it would be known as "Hello Haldwani" we have initiated the process to get various approvals and clearances from the Ministry and have come a long way and hopefully with the current pace in next 6 months we would be on air.


We are a team of three (teen tigare kaam saware) handling the project as this team is not experienced with such projects we first decided to visit a few other CRSs to understand the setup and most importantly understand the difficulties such setup's face so that we can start off by addressing those as well, in the process today we visited the first Community Radio Station of Uttarakhand "Kumaun Vani".

Kumaun Vani is operating from Suri in Mukteshwar which is at almost 2200 meters above sea level and is blessed with scenic beauty and the Panchchuli ranges of Himalayas are seen from this place, Kumaun Vani started in March 2010 and is managed by TERI a wonderful organization.


This was not the first Radio Station which we visited but was a Station where we learned the most as this Radio Station operates with the bare minimum set of equipments and people it just attracted us, as this is what we expect from our upcoming station. Kumaun Vani have all rounder people , each one of them knows the in and out of the entire system which attracted us. The station currently operates 6 Hours a day with 3 Hours of live content which also includes phone calls now you might be thinking why we are saying/treating this as great when their are FM channels which operates 24x7 but here is the difference the same difference as it is between the proprietary and open source software.


Aim of Kumaun Vani is to promote the community around it and help them grow this has gained quite good support as we saw today in their live show where they attended telephone calls live and read a few letters. This Radio Station is operated in the Local Language of Kumaun i.e Kumaoni almost 80% of the programmes are in kumaoni and rest in hindi this also promotes local language and will help in sustaining it for long.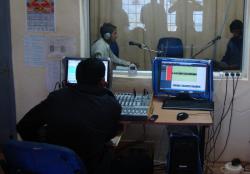 Now lets talk about the setup and how does this radio station operates, The Station is a 2 room setup or i would say a One Room Setup which is divided in 2 parts the Recording Room and Control Room, The recording room has ample of space for a group discussion between 3 people which is quite sufficient the other room is the control room where Soung Mixing and various other operations are performed my interest in this room was the computer or say the main system which was actually running ubuntu and controlling entire station i.e recordings, telephone lines play-list and what ever was required the software which ran on this system is available at Gram Vani i am currently using the trial version of this software on my office machine to check this out in detail. As i told this station runs 3 hours of live content majority of it is produced in the recording room rest comes as recording by local reporters who go to various places and cover events including the local gram panchayat meetings, local events and much more.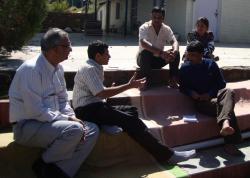 As today was a sunday entire team of Kumaun Vani was not available but we were lucky to meet around 6 people,  which included the Manager, RJ, Operator, Helper, Reporter we were quite lucky to reach this place when a live session was on air and it was a quite good experience for all of us. Once the live session was over we started discussing everything in detail and the staff was kind enough to help up on every single thing which included on how they decide on what should go on air and what should be scrapped how they handle sessions, how do they collect content from local community and how they promote this Station and i assure you that these people are doing quite a wonderful job with a young and energetic staff, i would say each one of them is a one man army as the job is not quite easy, getting/making the content which can go on air takes lot of efforts and pain.


Locals of the mountains are very kind and are always ready to help and this once again came to be true with the arrangement of tea by their RJ Tulsi who managed to arrange milk for tea from a near by household and prepared the tea over a Stove for all of us. I would like to thank Mr Manoj & his staff for their support they were of a great help to us.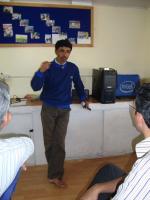 and finally i would say that this station is performing wonders with an awesome staff and i would recommend you to tune in to FM 90.4 Kumaun Vani when you come to this place Mukteshwar or near by and appreciate their efforts oh i forgot to mention that we saw some awesome scenic beauty here at mukteshwar the apple trees in almost every house out there was amazing badluck that apple fruit does not grow in this season else we would have enjoyed apple from direct trees, we took quite a lot of photographs selected  are included in this blog for you :)
More Photographs https://www.facebook.com/media/set/?set=a.10150356995249556.367745.6338…