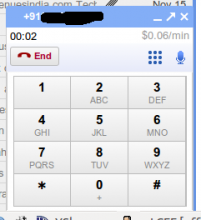 UPDATE (28/02/2011): Till yesterday Voice was working only on BSNL EVDO but today it started working on our lease-line based connection as well and whats more now i am also able to add credits to the account which was not possible since last few days. +301 is the number from which you will see incoming calls
UPDATE (30/01/2011): Google Voice was deactivated from my account but today (30th Jan 2011) it is again available i am using a BSNL EVDO based Internet connection and my IP is 117.254.221.163 (dynamic) the location of this IP is in India here is an IP Location Lookup result

| | | | | | | | |
| --- | --- | --- | --- | --- | --- | --- | --- |
| 117.254.221.163 | IN | INDIA |   | RAJASTHAN | JAIPUR | (NATIONAL INTERNET BACKBONE) | |
A Long wait for Google Voice in india ends here, still there is no official announcement for the service but its now working.
The Service incidental got activated in my Google Aps Account today and i was able to make calls the minimum recharge option available is $10.00 calling charges can be found here. Calling to United States in Free.
When a user calls from Google Voice the recipient will see an incoming call from +1XXXXXXXXXX Number.
and i can confirm that the plugin is available for Debian & Suse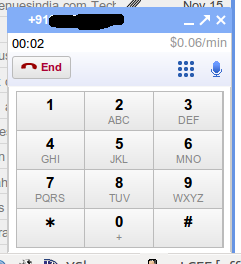 UPDATE: Google Voice worked over BSNL EVDO last night but now when i am trying to use it over a differennt ISP its not working.